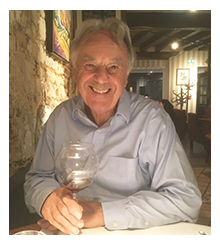 Chris began his career in film in 1967 as a 3rd Assistant Director on the musical Oliver!, he was just 22.
Since that first break on Oliver! he went on to work on over 47 major feature films, in several production grades, 2nd and 1st Assistant Director, Location Manager, Unit Production Manager, Production Supervisor, Line Producer, Executive Producer and Producer.
He was most proud of Where Eagles Dare, Rollerball, Shout at the Devil, Escape to Athena, Empire of the Sun, Batman, In Love and War, Lara Croft: Tomb Raider and two Bond films: The Spy Who Loved Me and Moonraker. Also in the early 90's Chris developed pictures on behalf of Peter Guber / Jon Peters, Morgan Creek and Ridley Scott.
During his 40 years in the film business he travelled all over the world, worked for British and American film studios and had many experiences and stories to tell.
In the last few years of his life he wanted to hand on his knowledge, his experience and wisdom and therefore devoted his time to helping young filmmakers through Screen South, The Production Guild and Creative Media Skills.
Chris was only diagnosed with cancer at the beginning of August and sadly died on 26th September.
You can see a full list of Chris' career credits here: IMDb | IMDb Pro.

Memories of Chris
On this page, we will share your stories of the good times spent with Chris. We'd love for all members to contribute to the page who would like to. To do that, please send your memories of Chris to Gareth, [javascript protected email address] who will then post them here for everyone to see.
Alison Small, Chief Executive, Production Guild
"I was so shocked and saddened to hear about the passing of Chris. He was a very loyal member of the Production Guild, always there to try and help us achieve the very best, and always there to help me personally. I will miss him very much. RIP Chris."
Vic Armstrong
"It is so sad to hear about the passing of Chris. It happened so quickly it must be dreadful for Janet. There is never any way to prepare for this sort off thing but to have it all happen so quickly is dreadful. I remember Chris from way back in 1968 when we shot Hell Boats in Malta. We were both young men getting started out in our careers. Chis was 2nd or 3rd AD. We became friends on that show and remained that way from then onwards. Our paths crossed many times after that and when I lived in Farnham Common we would have regular meets at each others houses to swap stories and plan our future adventures. You will be missed greatly my friend, RIP."
Jo Burn
"I was so shocked and sorry to hear about Chris's passing. I was lucky enough to work for Chris on Batman in 1988. He was an excellent boss and taught me so much. I have always had very fond memories of Chris and was very happy to see him whenever our paths crossed. My very best wishes to his family of whom he was always so proud. RIP Chris."
Some further photographs of Chris are below: